17 July, 2021
Do you ever get bored of staring at your blank walls, wishing that they were somehow more interesting? Well, we've got good news for you: the easiest way to spruce up your home is to add texture paints, features and designs to your walls! A wall is a giant blank canvas inviting you to unleash your creativity upon it, and we have 10 texture paint and wall design ideas to get you started. Ready to transform your home? Let's go!
---
1) Wood Strip Panel
Also known as fluted panel, wood strip panel is one of the simplest and trendiest ways to dress up your walls. Generally made of Wood-Plastic Composite (or WPC), wood strip panels are available in different colours according to wood type such as Walnut, Teak, Oak or Pine. It gives your space a pleasant and warm look while providing insulation and soundproofing. As versatile as it is, it will match any interior design concept your home has.
2) Wainscoting
If you prefer elegant vibes, wainscoting is a perfect design element to use throughout your home. Trims and panels are installed along the top and bottom portions of walls, creating a framing pattern. Dramatic yet elegant, it adds a classy kind of charm to your interior. Though generally considered a traditional, classic technique, wainscoting has also evolved to be modern, featuring innovative designs that are "out of the frame", no longer confined to being split into the top and bottom of the walls.
3) Texture Paint
Texture paints or decorative paints are paints that give your walls special effects and textures. Unlike normal paint, texture paints are premium wall finishes, available in various colours and types of surfaces ranging from metallic to velvet to grainy. Depending on your preference, texture paints can be applied on walls or ceilings using a variety of techniques, and the result is a luxurious atmosphere that allows your personality to come through.
4) Venetian Plaster
Some might consider Venetian Plaster a type of texture paint, but we believe that it deserves its own category based on its history, legacy, and ingredients. Records show that Venetian Plaster has been used since Ancient Roman times, enduring the test of time both physically and aesthetically. Made from natural ingredients such as lime and marble dust, Venetian Plaster has the ability to give your home an instant glow-up with an ethereal, natural texture reminiscent of marble, while also offering health benefits. It regulates humidity, absorbs carbon dioxide, and is non-toxic, so you get to level up your home both in terms of aesthetics and health!
5) Faux Marble
A genuine marble wall entails not only major expense but a major remodel as well. Here's where faux marble comes in. Meticulously handmade by skilled artisans, faux marble has a history that stretches way back to Renaissance times, where they even had faux painting schools! Thanks to its handmade process, a faux marble wall retains the quality appearances of marble: elegant and luxurious, but it can also be customized and made unique to your liking, all seamless without joint lines. Not to mention that it is also more affordable compared to real marble stone.
6) Lime Paint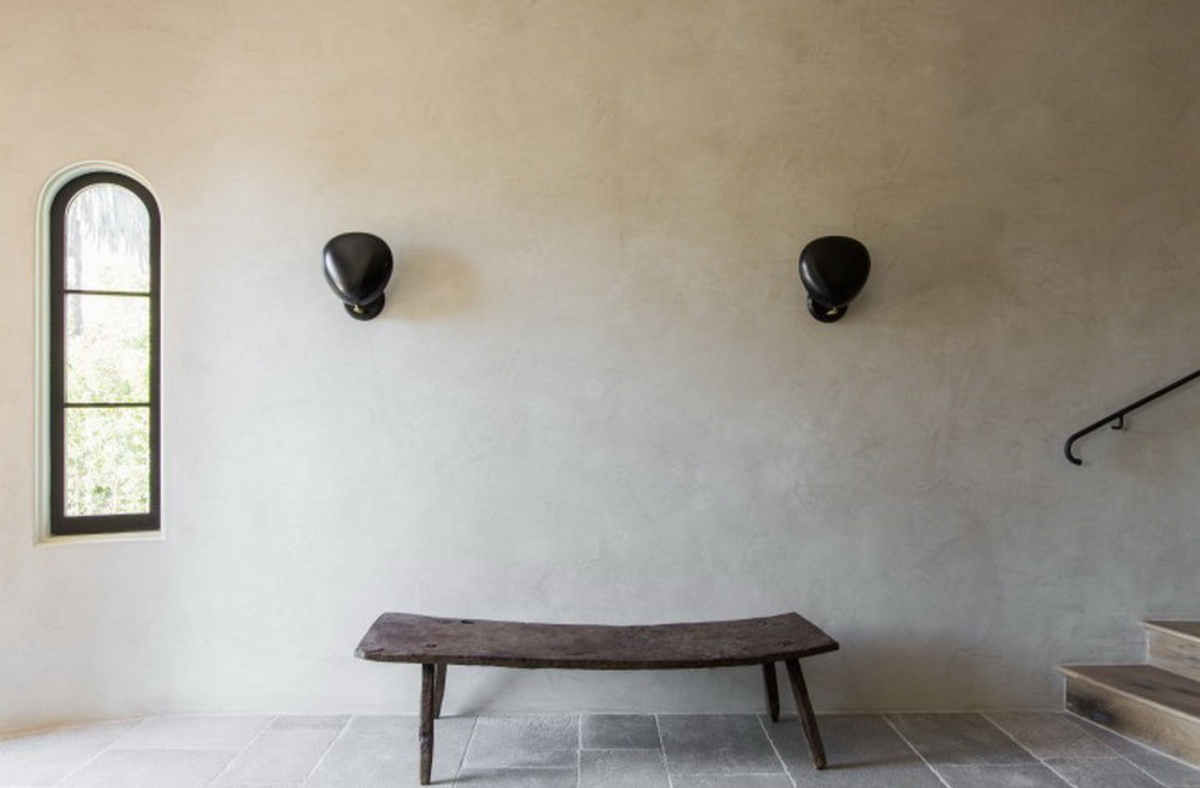 Lime paint or lime wash is a natural, eco-friendly finish for walls which provides a timeless aesthetic and health benefits as well as durability. Applied using brushes or sponges, lime paint creates a beautiful, mineral-like texture that is more stylish than regular paint. What transpires is a soft, weathered, and natural movement effect on your wall which only improves over time. As it is made from natural ingredients, it is also a healthier, better option than regular paint.
7) Brick Wall
Brick wall designs have become a trend in recent years, not just in cafes but at home as well. Giving off raw, industrial vibes, brick walls today can either be achieved using brick veneers or decorative plaster. What's more, brick wall designs also add distinct style and character to a space, regardless of an interior or exterior. Rich in textures, brick walls are available in various colours.
8) Cement Texture
Dreaming up a beautiful industrial or modern contemporary look for your home? You can't go wrong with a cement effect! Of course, you can always use real cement, but it could be more trouble than it's worth, as it can produce cracks and inconsistent texture. A better alternative would be to use Venetian Plaster or texture paint, which can help create the appearance of cement minus all the weight and hassle. Depending on your preference, cement effects can be tailored to look sophisticated and classy, or raw and rustic!
9) Rust Effect
Quickly becoming the latest trend in design, the rust effect is as its name suggests, giving a rich, rusted metal appeal, yet rustic in nature. Artisans highly appreciate the natural, authentic look, while taking it upon themselves to perfect the effect with different techniques and materials. Best for bold statements, the rust effect is recommended for use on industrial-style feature walls in modern, futuristic spaces.
10) Shapes Painting
It's time to give some credit to normal paint, as shapes painting is achieved by combining different colours and shapes, all using normal paint. Not only does it encourage creativity since possibilities are endless, but it is also fun and affordable, not to mention that it allows for a touch of whimsy and to showcase your personality! Having been around for some time, shapes painting is best for those who like a touch of quirkiness in their home!
---
Today, Vasari Malaysia doesn't just offer Venetian Plaster and Lime Paint. We also partner with other brands in the industry to provide you with a wide range of selection for your wall finishes, creating infinite possibilities with 1000+ variations of textures, colours, and tonalities. Give your home a glow up with Vasari Malaysia!